Your mental health is as essential as your physical health, which is why you should take any mental illness seriously. Mental illness can develop in various settings. You may fall prey to it because of your family history. In other cases, your mental health may be disrupted because of other reasons like stress, trauma, lifestyle habits, and relationship issues. 
At Medipro we believe in treating the whole person. Your mental health is a critical part of that. We offer group therapy, and we can support many common issues with nutrients, herbs, and acupuncture, as well as handle some of the medications. For more complex issues we offer Ketamine treatments and work with a trusted network of providers and can help facilitate getting people to the best place for care.
In either case, you may need a multidisciplinary team of counselors, nurses, psychiatrists, psychologists, and your peers to deal with the situation. We ensure to work with you on every step of your mental illness to overcome it at the earliest. 
We treat mental health differently! As part of our comprehensive treatment strategy we focus on the metabolic and hormonal implications related to mental health. We work closely with mental health professionals to augment your care. We are not a primary treatment or medication management facility but we offer many supportive therapies not commonly available.
Learn about GammaCoreTM
Counseling and Psychological Assessments 
It is also known as talk therapy and constitutes one of the most common treatments for mental health disorders. You may reach out to us and talk about all your problems. Our psychological assessments and counseling include many types of talk therapies. Depending upon your comfort, we may perform a one-on-one or group talk session. 
Depression, Anxiety, PTSD, OCD, Stress
These mental health problems have become extremely common. Do not overlook your anxiety or stress. Schedule an appointment with us if you experience the symptoms such as lack of focus, sadness, insomnia, and anxiety. After learning about your case history, we will customize your treatment plan with the best therapies. 
We provide cognitive behavior therapy (CBT), eye movement desensitization and reprocessing (EMDR), and Present Centered Therapy (PCT) to treat these problems. 
one of our owners at "doc talks" discussing anxiety
GammaCoreTM
GammaCoreTM is a non-invasive vagus nerve stimulator, otherwise known as nVNS, that activates the vagus nerve with gentle electrical stimulation through the skin of the neck. The vagus nerve is the longest cranial nerve in the body, with branching nerves that go to the heart, lungs, stomach, and many other organs. It is for reporting information to the brain and transmitting instructions back to the body.
Think of the vagus nerve as the nervous systems "super-highway", sending important communication back and forth between your brain and parts of the body. The vagus nerve modulates systemic inflammation having an effect on the autonomic, enteric (Gut-Brain Axis) and peripheral nervous systems. Because of this broad influence it is useful to treat in many conditions including central pain, headache disorders, inflammatory conditions, gastrointestinal disorders and less defined conditions such as Chronic Fatigue Syndrome and Long-Covid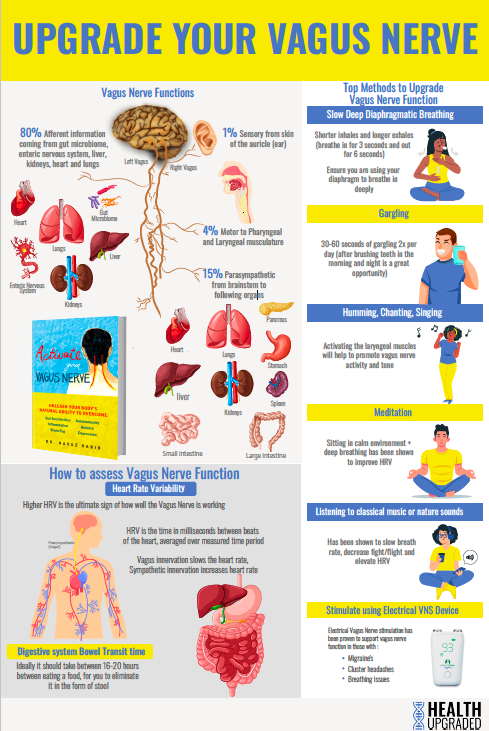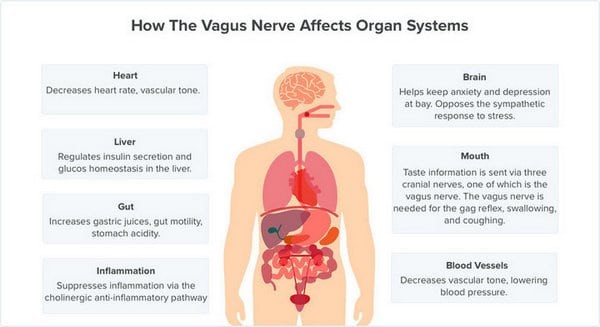 Chronic Illness Brain Histamine Connections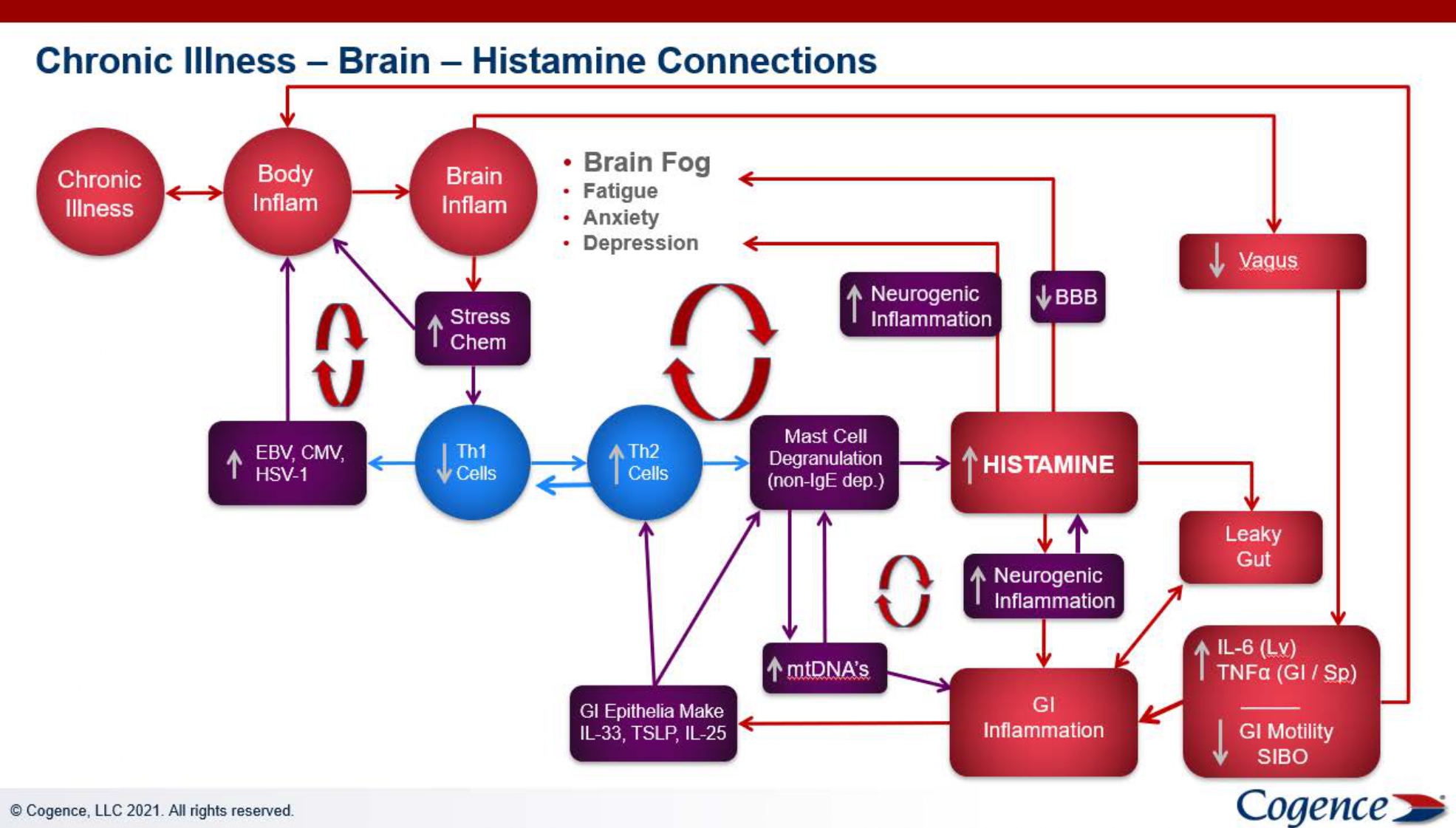 BrainTap
BrainTap is a proprietary Neuro-Biofeedback device that utilizes a combination of light & sound to balance brainwave states that enhances production of all the necessary neurotransmitters needed for optimal function of body and mind. The BrainTap headset uses unique frequencies of light and sound to produce incomparable brain fitness.
Think Better – BrainTap gives you the gift of a present mind. Instead of feeling overwhelmed and distressed, you feel energized, focused, and confident.
Sleep Better – Retrain your brain to relax into your body's natural sleep pattern and awaken rested, revitalized, and renewed.
Perform Better – As your brain develops a heightened sense of clarity and your energy returns to full form, your performance accelerates naturally.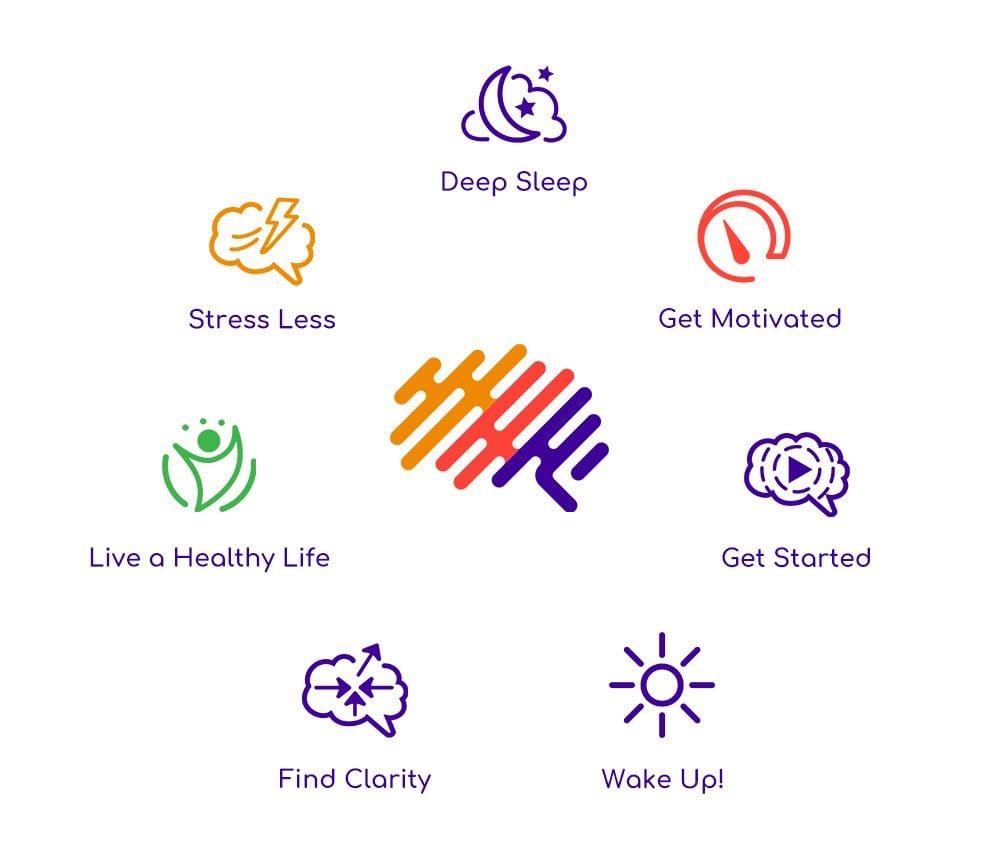 IV & Injections
Ketamine injections are used nowadays to treat chronic pain, or other mental health disorders like major depressive disorder (MDD), bipolar disorder, etc. Esketamine nasal spray, its derivative, is used to treat depression.
Years ago, a doctor named Edward Domino found that ketamine offered at higher doses may knock people out, but on the other hand, lower doses create psychoactive effects. Now, it is approved by FDA to be used as anesthesia. According to a Harvard Health blog, someone with life-threatening thoughts or acts should be immediately provided ketamine to relieve such a depressed suicidality mindset.
Ketamine Infusion Therapy is an innovative, new treatment for pain, anxiety/trauma and depression. Research suggests that it has a "reset" effect in the area of the brain (midbrain) that processes mood and emotions. It is also involved in the signaling for physical pain. The idea is that after a Ketamine infusion, these areas reboot.
We also offer a variety of nutrient injections and special formulations to replace deficiencies or treat specific issues.
Stellate Ganglion Blocks
The stellate ganglion are sympathetic nerves in your neck. They're found on either side of your voice box. You can get an injection called a stellate ganglion block (sympathetic nerve block) to ease pain. Stellate ganglion blocks may also help in the treatment of certain mental health conditions, like posttraumatic stress disorder (PTSD), anxiety, and depression.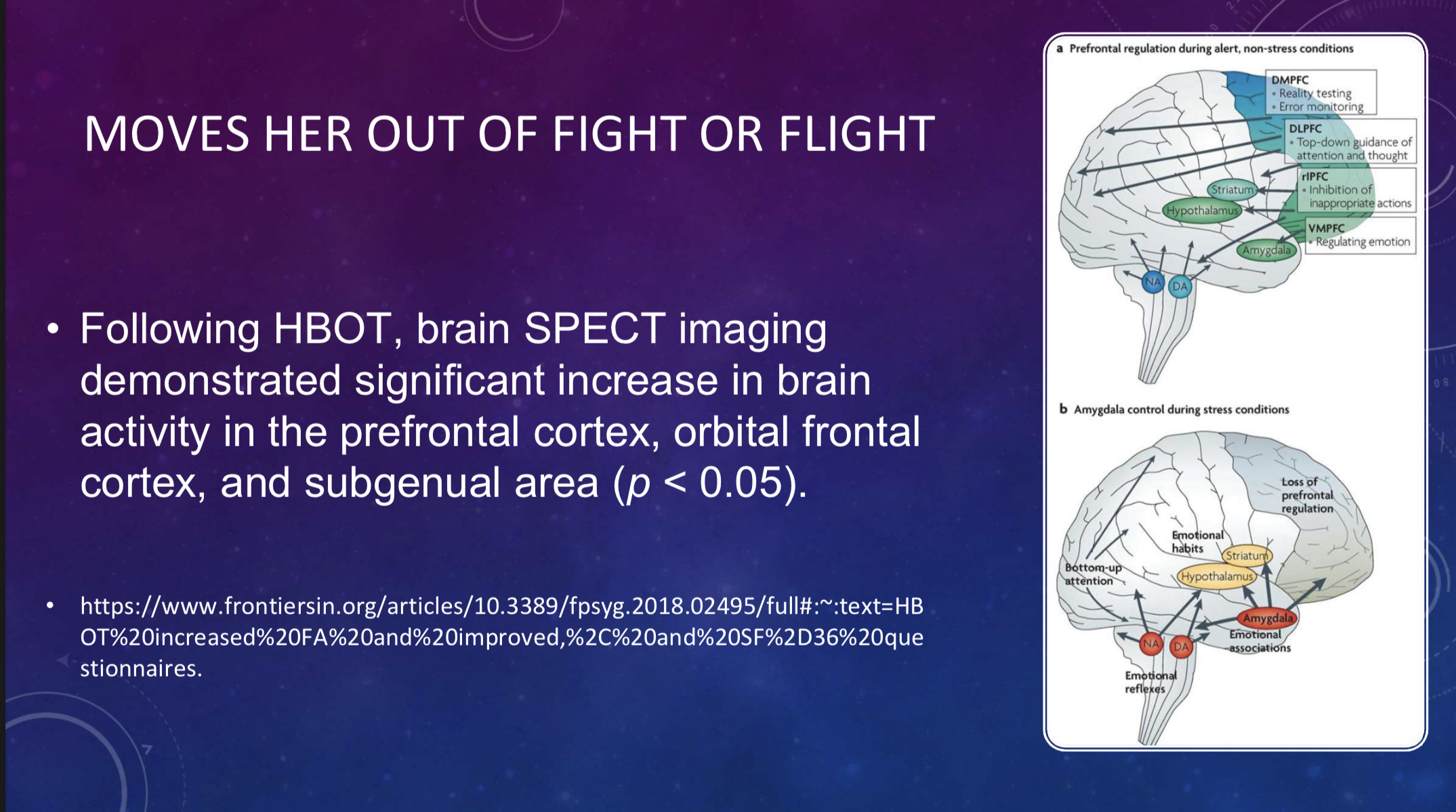 SphenoCath
MediPro Pain & Performance is proud to be the preferred provider of SphenoCath for the Northwest
Unique treatment with SPG/V2 block. SPG block stands for sphenopalatine ganglion block. V2 refers to the branch of the trigeminal nerve. The sphenopalatine ganglion itself, is a collection of nerve cells located just under the tissue lining the back of the nose. By applying a local anesthetic to the area, nerve impulses can be temporarily blocked, providing relief from various types of pain, as well as dysautonomia and neurological symptoms.
Sensory, sympathetic and parasympathetic fibers pass through or synapse in the SPG, making it a key structure in various types of cephalgia and neurological conditions. Temporarily blocking function of the SPG can provide prompt, and sometimes sustained, relief of pain.
It is also theorized that an SPG block provides sustained relief by disrupting dysfunctional neuronal activity, allowing restoration of normal function.
The SPG/V2 is also part of a complex that connects the areas of the brain responsible for pain signaling as well as overlaps signaling from the stellate and vagal nerves making it appropriate to help with conditions such as PTSD, persistent sympathetic tone, visceral (organ) pain and similar conditions. Not all indications are FDA approved.
The most common medication used for an SPG block is a local anesthetic such as lidocaine. At Medipro we can also employ a variety of unique and specialized medications specific to your condition. This could include regenerative tissue matrixes, peptides, or nutrients such as NAD or Rg3.
SphenoCath FAQ
What can be treated with an SPG/V2 block or treatment?
A variety of conditions are appropriate for treatment. Migraine and chronic headaches are the most common indication but, many other conditions can be effectively treated to include but not limited to nerve pain (trigeminal, supraorbital, occipital etc.), central pain syndromes (Fibromyalgia, CRPS, neuropathies), autonomic dysfunction (POTS or visual-vestibular disorders), visceral pain (hypersensitivity due to gastrointestinal disorders, and pelvic pain such as vulvodynia and interstitial cystitis), as well as persistent states resulting in increased sympathetic tone or vagal nerve dysregulation (seen in anxiety, PTSD and many forms of depression). Targeting of the SPG/V2 complex also allows for delivery of specialized medication that address underlying root causes of the dysfunction and help to induce repair from things like traumatic brain injury.
How is the procedure performed?
The procedure is done using the SphenoCath® device. SphenoCath® is a one-of-a-kind patented, soft, flexible, spaghetti-sized catheter which employs a flexible outer sheath with soft edges for comfort and an inner angled flexible catheter to deliver medication without the use of a needle inside the nasal passageway with maximum patient comfort.
Lay down with your chin tilted back.
2. Your provider will gently place the SphenoCath® in your nose and direct it to the top of your nostril. Although most people report no pain at all during the procedure, you may feel a light pinch the moment the tip of the device reaches the correct location.
3. Once the SphenoCath® is properly inserted, your provider will deliver the medication to the target area to complete the procedure. They will then remove the SphenoCath® from your nostril.
4. Lay flat for 10 minutes to ensure maximum benefit.
That's it. No needles. No worries.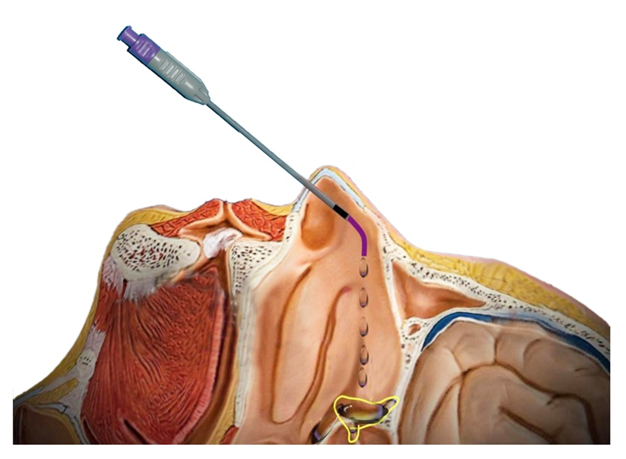 Some patients experience a minor discomfort when the small, soft SphenoCath® is inserted into the nose, but the procedure is not painful when performed correctly. We use a local anesthetic prior to insertion to reduce any potential discomfort. The patented SphenoCath® uses no needles and is designed to be comfortable and safe for patients.
SPG block using the SphenoCath® takes 2-3 minutes. Patients are encouraged to remain in a flat or reclined position for 10-15 minutes afterwards to maximize the benefit of the procedure.
The medication choice is up to your healthcare provider. At Medipro we will discuss and review the various options appropriate for your individual condition.
What are the side effects or risks with the SphenoCath®?
The risks of using the SphenoCath® include irritation to nasal cavity or mucosa, nose bleeding; and/or mild pain.
Why haven't I heard of SPG block before?
The SPG block has been described in the medical literature for over 100 years. It has been proven effective for many painful conditions but, until the invention of the patented SphenoCath®, the procedure has been difficult, uncomfortable, and offered only by a few practitioners. Medipro is one of a select few clinics to offer this procedure.
Do not change your medications unless instructed to do so by your provider.
What are the benefits?
Benefits of using the SphenoCath® device in an SPG/PPG Block Procedure:
2 to 5 minute in-office procedure
Majority of patients experience immediate relief
Very low risk
Very high success rates
Safe for adults and children
Potential for reimbursement by most insurance companies & Medicare (Patient submitted)
Related Links
Counseling and Psychological Assessments
Depression, Anxiety, PTSD, OCD, Stress
Depression, Anxiety, PTSD, OCD, Stress/TMS
Ketamine therapy
Medication management
To find out more about the healthcare services we offer at MediPro Pain & Performance, Beaverton, OR, call (503) 828-9265 or schedule an online consultation. You can also visit us at 17933 NW Evergreen Place, Ste 285, Beaverton, OR 97006.